Agreement between Eastern University, Sri Lanka and AMCOR.
admin
Fri, 24/Jun/2022 - 12:22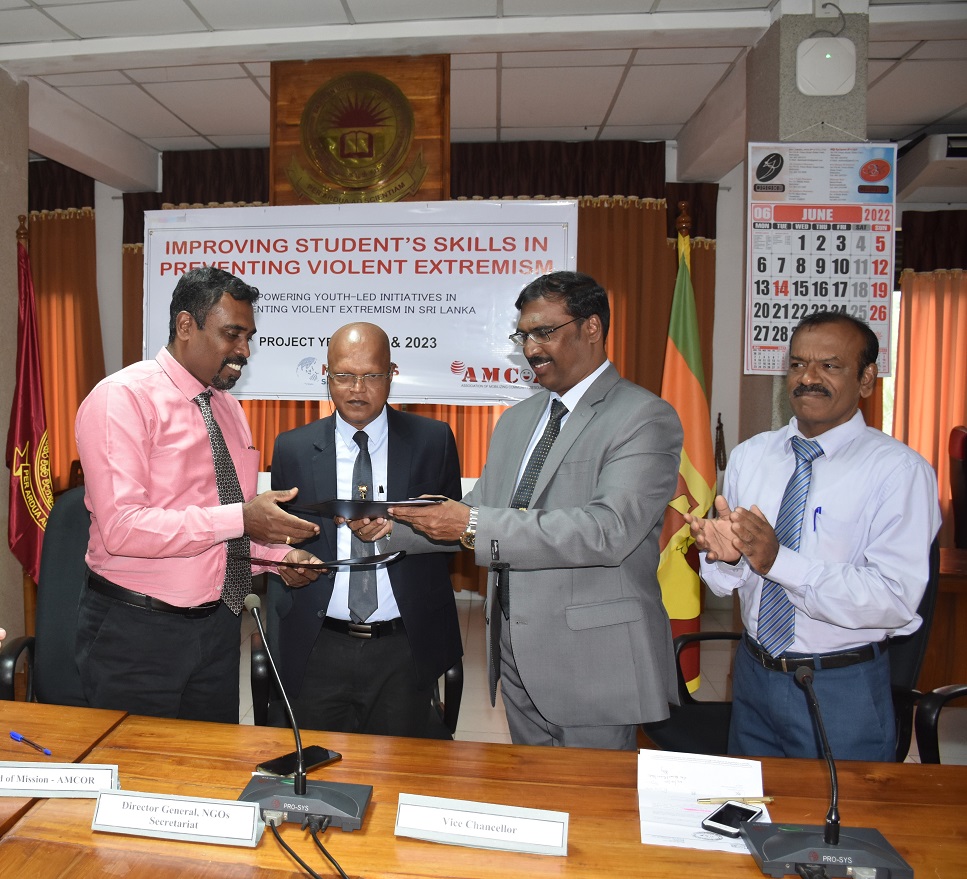 A Memorandum of Agreement was signed between Eastern University, Sri Lanka (EUSL) and the Association of Mobilizing Community Resources (AMCOR).
On behalf of the University, the Vice Chancellor Prof. V. Kanagasingam and the Head of Mission of AMCOR Mr P.Muralitharan signed the agreement on the occasion of Project Orientation on Improving Student's Skills in Preventing Violent Extremism (PVE) signed on 24.06.2022 at Board Room, EUSL.
The above agreement signed on Improving Student's Skills in Preventing Violent Extremism aims to develop the Skill, knowledge and attitude towards preventing violent extremism of youths selected for university degrees who will become tomorrow's leaders, who will hold senior positions in the public and private sectors, and who will be able to reach high levels where they can make important decisions for the country.
Dr. K.E.Karunakaran - Deputy Vice Chancellor of EUSL, Dr. (Mrs). F.B.Kennedy - Director of Swami Vipulananda Institute of Aesthetic Studies, Prof. J.Kennedy - Dean of the Faculty of Arts and Culture, Mr A.Pahirathan - Registrar of the University, Directors of Students Support Services & Welfare, Centre for Industry & Community Linkages, and Career Guidance Unit, Mr S. Karunakaran, District Secretary of Batticaloa Mr Raja Gunaratne, Director General of NGOs Secretariat, and officials of the EUSL, District Secretariat of Batticaloa, AMCOR were graced the event.