Message from the Vice-Chancellor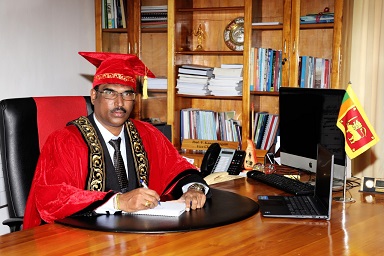 Eastern University, Sri Lanka (EUSL) was established as the Batticaloa University College on 1st August 1981 with two faculties: the Faculty of Science and the Faculty of Agriculture. On 1st October 1986, the University College was elevated to the status of a full-fledged university under the name of Eastern University, Sri Lanka. The Swami Vipulananda Institute of Aesthetic Studies was adjoined with the Eastern University, Sri Lanka as its institute in 2002. At present the Eastern University, Sri Lanka has expanded its activities with six faculties and a campus at Trincomalee. Altogether over 8670 students from different communities are pursuing their higher education in the University.
My vision is to elevate EUSL to be a "World-class knowledge centre by recognising excellent teaching, learning and research for enhancement of community wellbeing". EUSL is located at a strategic location in the Eastern Part of Sri Lanka. All three communities are living together harmoniously in the province. Thus, EUSL has the social responsibility to cater for the needs of all three communities and function as a centre for the integration of multi-ethnic and multi-religious communities.
The university is a social organization that should be adopted and incorporated in all possible ways to respond to the contemporary issues such as graduates' unemployment, lack of industrial linkages, and less commercialized research outputs of the university, while the major roles of University are (i) Producing employable and abled graduates, (ii) Maintaining and upgrading commercialized research and (iii) Community Services. These will be achieved through a multi-disciplinary and participatory approach, by focusing on "outcome-based, scientifically evident and community linked" initiatives to address the unmet needs in the region in the context of socioeconomic status and quality of life of the people, along with the national integrity and social harmony through technological innovation.
Research and innovation in the higher education sector are the main outputs that fundamentally strengthen and lead to regional and national development. I cordially invite all stakeholders to join with us and contribute to the process of transforming Eastern University, Sri Lanka into a prestigious university, and to ensure its deliverable outputs for the expected outcomes to the unmet needs at regional, national and international levels at large.
I am more than happy to welcome all interested stakeholders to create coordination and cooperation with us to uplift the status of Eastern University, Sri Lanka.
Prof V Kanagasingam (AMIPM-SL)
Vice-Chancellor & Professor in Management  
Ph D (PIM-USJP), M Sc. (Management) (USJP), BBA (Hons.) EUSL, CTHE (UoC), CRHEM (Thailand)
Eastern University, Sri Lanka
Taxonomy